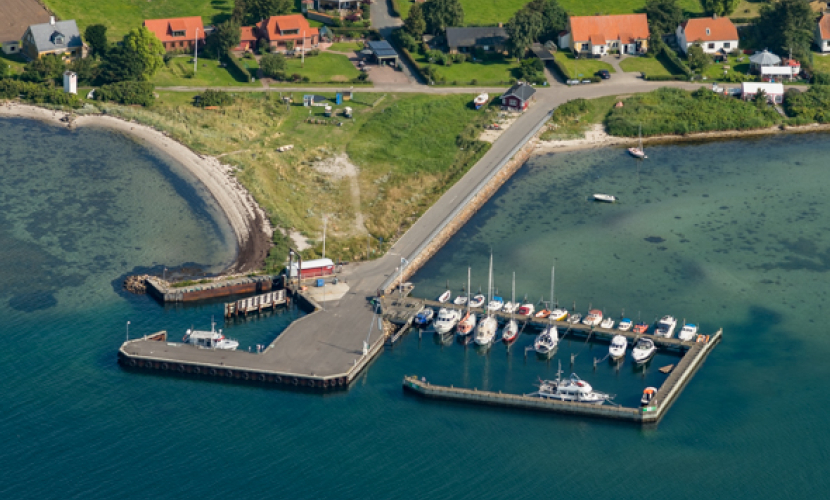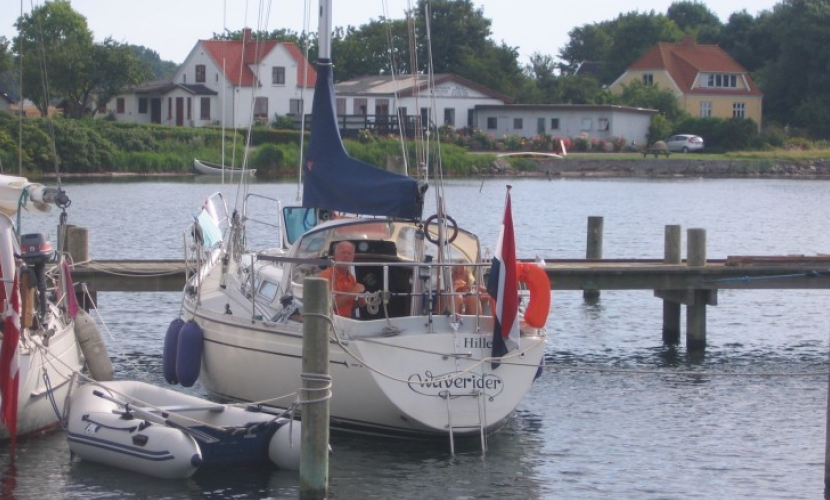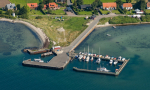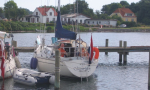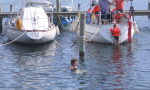 Hjarnø Bridge and Marina are as cosy as they come. Here, you are 'far from everything' – with a peace and quiet that touches your soul. The marina is among the smallest in Denmark, and it happens to have Denmark's smallest harbour master's office as well. The marina has room for around 10 visiting yachtsmen, and you will soon find yourself in conversation with other yachtsmen and the island residents. There is a solid and safe anchoring place right by the marina.
Food and farm shop
Enjoy a nice dinner at Den Gamle Smedje – "the Old Smithy" – or take refreshment at the farm shop at the west end of the island. Groceries and bake-off can be purchased at the campsite, and a quick meal can be had at Pølsekrogen – "the Hot-Dog Nook".
Check out the farm shops and roadside stalls, where you will find many excellent island products to extend that summer feeling: skins, flour, yarn and much more. Local potatoes and vegetables are not to be missed.
El Dorado for children
Crab hunting is a must for children, and the marina has a track where crabs can race each other back into the water. Close to the marina is a nice bathing beach with white sand. The water is very shallow, so even small children can bathe there. Young archaeologists may be in luck and locate the remains of a Stone Age settlement in the shallow waters.
Inland you will find Skolehaven –"the School Garden" – with a large playground and a covered lunch area where you can take a rest. Here you will also find Hjarnø's version of a mini golf course.
Fresh island air
Hjarnø is a beautiful nature area where hiking and bicycle trips will lead you through the idyllic landscape to incredible views, interesting prehistoric monuments, and excellent bathing beaches.
On the southern part of the island, you will find several marked routes. One will lead you across the island along a series of well-preserved farms that comprise a major part of the settlement on the island.
The entire north coast of Hjarnø is a large tidal meadow with interesting salt-tolerant vegetation – the area is an important breeding ground for coastal birds. The remaining part of Hjarnø is open farmland with few fences and many nice views. You may rent bicycles on the island.
Traces of the Vikings
The trip to Hjarnø Odde – "Hjarnø Point" – is an exciting experience. Here you will find a nice sandy beach that can only be reached on foot. Start at the church and cross the lagoon by the small bridge to get to the beach. Here you will get a view across Hjarnø Sound to Hundshage point and Tønballegård forest.
East of the lagoon you will find 10 stone ships – Viking Age graves. Each stone ship is made from granite blocks placed in the shape of a ship. Perhaps King Hjarnø and his men were laid to rest here? Denmark's second-smallest church – which also bears traces of the Vikings – is worth a visit, too.
Facilities
at
Hjarnø Bro og Hjarnø Bådehavn
Restaurants
near the harbor
Events
near
Hjarnø Bro og Hjarnø Bådehavn
Attractions
near
Hjarnø Bro og Hjarnø Bådehavn
Other harbours
near
Hjarnø Bro og Hjarnø Bådehavn