One of the harbours you should make a point of visiting every year is Juelsminde Harbour & Marina.
The harbour is located close to the sailors' main road along the east coast of Jutland, and it makes the perfect stop, whether you are headed towards the Kattegat to the north or the Little Belt and the Danish Archipelago in the south. The marina itself is located in the very centre of the busy tourist town Juelsminde. Here you will find plenty of opportunities to stock up on provisions in the many well-stocked stores or enjoy the many great eateries.
Juelsminde Harbour and Marina is divided into four sections: the lively Old Harbour, the East Harbour, the fishing port and the more tranquil Sandbjerg Marina.
State-of-the-art facilities
Juelsminde Harbour and Marina is at the very top tier when it comes to great harbour facilities. The harbour was voted "Harbour of the Year" in 2012 by its recreational sailors, and you will feel why when you visit the harbour.
Here you will find barbecue areas, ice-cream stall, fishing shops, restaurants, boat equipment and lots of activities for young and old alike.
Petrol and diesel
The harbour offers refuelling of both diesel and petrol from a brand new tank installation, available 24 hours a day. Furthermore, the harbour offers a pump-out system for holding tanks.
Payment of harbour fee
Payment of the harbour fee is done at the cash-loader system found at the harbour master's office and the clubhouse in the Old Harbour. Here, you can also buy a card that covers electricity, hot showers, washing machine and drier, and which allows you to open the doors to all service facilities and the clubhouse. Here at Juelsminde, however, we still drive around on the jetties to welcome our visiting yachtsmen, which means that you can pay for overnight stays and purchase electricity directly to the harbour master.
Please be aware that if you are sailing in a multi-hulled vessel, the price for boats under 11.99 meters (39.3 feet) is DKK 250. For boats over 12 meters (40 feet), the price is DKK 300.
If you stay for 6 consecutive nights, you will get a 7th night for free.
Red/green signs are turned over before 9 am on the day that owners of permanent berths will be returning. Visiting yachtsmen must find an alternative berth no later than 12 noon that same day.  
There is no demand code when using WiFi.
Motorhomes
Our motorhome pitch is closed from 11.10 to 1.1.2022, due to boat storage this year.
During peak season, April 1st – October 31st, motorhomes cost DKK 175 per night.
Between November 1st – March 31st, motorhomes cost DKK 100 per night.
Children on board
There are many activities for children. At the head of the old fishing port, you will find a large and very popular playground, as well as a large "kids only" crabbing bridge.
On both sides of the harbour you will find extensive, inviting sandy beaches that beckon you to take a refreshing dip and spend hours playing by the water.
The harbour was expanded from 350 to 500 berths in 2011, so there is no need to worry about finding a vacant guest berth.
WELCOME TO JUELSMINDE HARBOUR AND MARINA.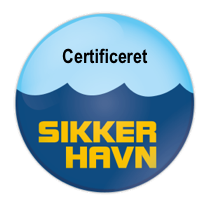 Sikker havn
Denne havn er Sikker Havn Certificeret. Det betyder, at redningsudstyr er opsat, placeret og mærket efter en række anbefalinger, for at højne sikkerheden.
Læs mere om certificeringen
Facilities
at
Juelsminde Havn og marina
Restaurants
near the harbor
Events
near
Juelsminde Havn og marina
Attractions
near
Juelsminde Havn og marina
Other harbours
near
Juelsminde Havn og marina