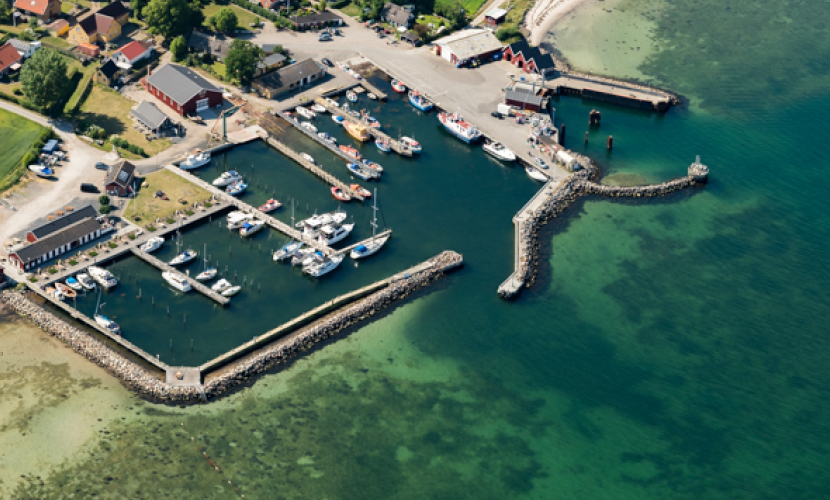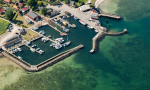 Beautiful nature and historic sights
Agersø has it all. The marina is connected to the industrial harbours – this creates a charming mix of ferry, fishing vessels and pleasure crafts, and you can almost always get hold of freshly caught fish for your evening meal.
The island has incredible nature, eateries, shopping and sights for young and old.
Agersø Marina is easy to navigate, and the marina offers around 100 visitor's berths.
Just up in the village, you will find a well-stocked grocery store, and the island offers different options for eating out: café, harbour grill and smokehouse.
Village, mill and entrenchment
Throughout the village, you will find characteristic stone fences, curious twisting roads, nice town houses and farms. Many places sell quirky jumble-sale items and fresh island produce. Pay a visit to the church, it was built in 1872 and has interesting murals.
Agersø Mølle – "Agersø Mill" – welcomes you. It is a Dutch windmill built in 1892 – and operating until 1959. The mill has been neatly restored and runs at festive occasions. If you climb up inside it, you will get an incredible view of harbour and sea.
In the village you will find a small museum that offers insight into Agersø's history and cultural heritage. And there is more history to be found. The entrenchment Agersø Skanse was constructed during the English Wars in the early 19th century.
Oasis for children
There are plenty of opportunities for catching crabs and fishing in the marina. Agersø offers several nice and child-friendly beaches – especially on the west side of the island. The island is also a paradise for fossil hunters, but be careful; you might get hooked… Pay a visit to the salt-water aquarium at the marina, it is both interesting – and free of charge.
Hiking is a must
A hike or a bicycle ride is a certain winner – Visiting yachtsmen may borrow bicycles free of charge.
The island has around 20 km (12.4 miles) of hiking paths and roads, with four marked routes of different lengths. The routes take you through interesting and peculiar nature and past historic sights. All routes start at the marina.
You can also tour the island on Traktorbussen – "The Tractor Bus" – pulled by a 1977 55HP John Deere 2130.
Lighthouse, birds and monoliths
Visiting Agersø's two small neighbouring islands is a great experience. The northern tip of Agersø is connected to the small island Egholm by a dam – here you will find extraordinary nature and wide tidal meadows.
At the sound Omøsund to the south, Helleholm is also connected to Agersø. The small island's bogs, beaches and tidal meadows are breeding grounds for a wide range of shorebirds and wading birds. A long time ago, Vikings left a 2 metre (7ft.) tall monolith behind – and this is also where the island's lighthouse is.
Restaurants
near the harbor